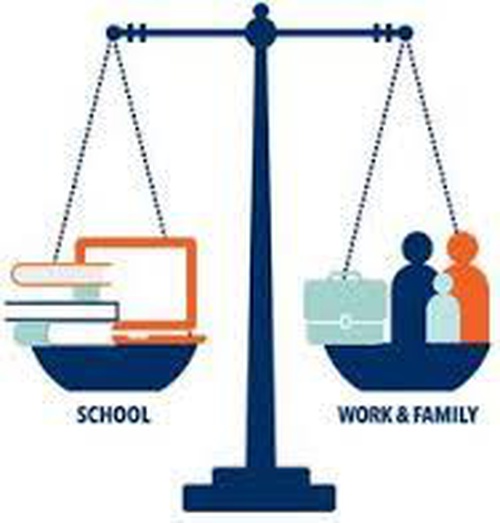 Nov. 1, 2018
Balancing School with Life
It is November already! You are back in school getting into your groove, completing your assignments and taking your quizzes to keep up with your assignment calendar. Since you are a Calpac student, you are given the immense freedom and unique opportunity to work on your own every day. Yet, with no bells signaling the beginning and end of the period and no school routines, you might struggle to manage your time and stay on task.  There may be times you feel overwhelmed by the amount of quizzes you need to do that day or feel pressured by the time you have to devote to classes.  Just sitting down at the computer and getting going can sometimes feel like an immense task, and if you do not establish your own rituals and tasks to help you work though your day, you will either have many false starts, or worse, burn out!
So what is the key to staying on track at school? It is balancing school with life. You have to have something outside of school that you love doing to make school meaningful. Having something that bolsters our sense of who we are and what we are good at is essential throughout life, but especially during the teenage years. An outside pursuit, whether it is drawing, playing soccer, surfing, or just going to your local gym and working out, will help you not only structure your time, but feel better about the way you attack your school work.  It is a way you can interact with other kids, release stress, have fun, and just be.
Here are some tips for balancing school with life:
Take a walk to clear your head in the middle of your school day.
Make a "to do" list that has two columns, one for school tasks and one for things to do to be engaged in life.
Sign up for a class through your local parks and recreation: from ceramics to coding, our towns have a wealth of opportunities for outside activities at reduced cost and often for free.
Volunteer at your local hospital.
Tutor young children in your local after-school program.
If you don't already have a hobby, take something you enjoy doing and do it.
Take time offline: spend time with friends grabbing a coffee or taking a walk.
Treat yourself well: make your favorite lunch and have your favorite drink by your side as you get your schoolwork done.
These are just a few suggestions, but there are so many things you can do in your community and in your life to provide additional pieces to your pie of life.