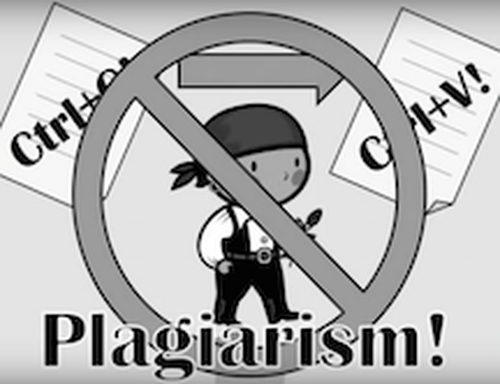 Feb. 1, 2018
Say NO to Plagiarism
With the start of a new semester, it is important to review academic honesty.  We are focusing on ways to avoid plagiarism for the month of February, and we encourage you to take this time to learn about properly citing sources and giving credit to original authors.  
Ms. Dodson, the English Department Chair, has put together a wonderful resource for you to explore and learn all about plagiarism and how to avoid it.  In the site, you will see several videos and resources to teach you all about properly citing sources so you do not commit plagiarism.  How to Avoid Plagiarism!
Let's check out a couple of important items on the website that will help you write exciting, engaging, and original work!   The first place you will want to check out is the Gale Research Library Database.  This is a great place to find scholarly sources to help you write factual, relevant, and interesting essays and writing pieces.  As you are searching for information, scroll down the website to see all of the resources on how to avoid plagiarism and write original work using the wonderful resources you just found in the Gale Research Library.  "Timmy the Plagiarism Pirate" will help show you the dos and don'ts of plagiarism so make sure to check him out in his movie debut!
Once you have found your sources and learned how to properly use them in your writing pieces, you now need to cite any information you used from another author to give that author credit.  At the bottom of the first page of the website, click on the yellow arrow to learn how to put your information into proper citations.  You can also put your information into a citation generator to make sure you have given proper credit to the source.  A works cited page should always be included in your paper to show what resources you used.
The most important thing to remember about plagiarism is that it is considered cheating to copy another person's work and claim it as you own.  The easiest way to avoid it is to always write in your own words.  If there is something you simply cannot put in your own words, put the sentence in quotes and give credit to the author!   All papers and essays are submitted to turnitin.com, which is a cite that checks your paper against the internet, resources, and other essays.  If you plagiarized your teacher will know about it.  Plagiarizing can result in zero grades for assignments and the course, so make sure you understand what it is and how to avoid it.  It is very serious, and there are serious consequences.
February is Plagiarism Awareness Month!  Now is the time to make sure that you understand what plagiarism is and how to avoid it!  Check out the website How to Avoid Plagiarism! for information and resources, but also feel free to talk to ANY of your teachers.  They are all willing to help you, and don't forget Timmy the Plagiarism Pirate!