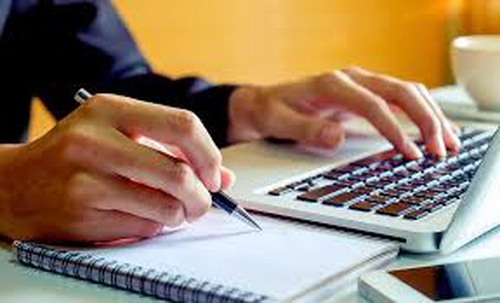 Nov. 1, 2018
Using CalPac's Research and Writing Resources
Students find writing everywhere they look in school: in history, in science, in electives, and even in math. It's just not English classes anymore! Here at CalPac, we support student writing across all disciplines and want students to develop confidence and independence as writers who value their own integrity as academic scholars with something important to share through words.
Knowing where to start when confronted with a new prompt, project, or short written response isn't always easy. Many in this position turn to a Google search for inspiration, and when a prompt requires research, most find themselves lost in the abyss of a Google search, left wondering "Is this Ok?" or "Is this source credible?" Even still remains the challenge of knowing whether or how to give credit to what students use from sources.
At CalPac, we have some great resources to help with these uncertainties, to empower learning, and to strengthen writing.
CalPac's Gale Research Database Subscription
Through our school subscription to three of Gale's best scholarly databases, students have a virtual library of academic resources at their fingertips. A quick keyword search still a student's screen with a list of primary and secondary sources on their topic spanning newspapers, magazines, academic journals, statistics, images, audio, videos, and more.
Amazing Benefits:
All databases work seamlessly with Google Suite functions, allowing students to save sources directly to their Google Drives.
All databases also make citing sources easy! With a click of the "Citation Tools" link for each article, students are presented with the MLA formatted citation that can be pasted directly onto their Works Cited pages.
Each Database has a Unique Value to Students
Gale Virtual Reference Library: Every library has specialized sets of encyclopedias and other reference material that cannot be checked out to take home. There was a time where students doing research would have to sit at the library's tables taking notes from these sources or photocopy what they wanted to take home. Not anymore! Gale Virtual Reference Library includes over 7000 full-text reference books across eighteen subjects…all accessible from your computer at home!
Opposing Viewpoints in Context: This database covers issues relevant in our world today. Its coverage of topics spans social, medical, scientific, political, economic, family, culture, diplomacy, and more. Students can search information on both sides of an issue, accessing various types of media and flexing their critical thinking skills and collecting a wide array of articles from authoritative sources.
Student Resources in Context: This database is the most comprehensive of the three in our subscription. It provides an all-access pass to sources across all curriculum. From primary sources to biographies to periodicals to critical essays, this database has it all. Students will find videos, interactive maps, charts, and graphs in addition to written articles. They will find articles from familiar and reputable sources like National Geographic and BBC News amongst countless others. This database is for students working on written assignments or projects across any of their subjects, and it's all in one place.
Access our databases by clicking: CalPac's Gale Resources*
*Contact any of your CalPac teachers for the password for the databases.
Avoiding Plagiarism & Citing Sources
As mentioned earlier, each database provides the correctly formatted MLA (or APA) citation at the click of a link. Pasting that citation onto a Works Cited page is made easy for students, but there remains the task of citing material within a written assignment or project that many may find daunting. We have help for students in this area, as well!
CalPac's Avoiding Plagiarism & Citing Sources Website was created just for CalPac students. Each page of the site is comprised of short video tutorials (many of them really fun and engaging!) showing students not only what plagiarism is but how to avoid it. Other information shared and modeled includes how to format a Works Cite page, how to integrate quoted and paraphrased material skillfully, and how to include parenthetical citations using MLA format.
Between our databases and our just-for-students guide to avoiding plagiarism and citing sources, we take the mystery out of research and the intimidation out of citing sources.
Students need delve into the Google abyss no longer. By using the resources above, all students can feel confident navigating their academic sails into smoother waters and bringing their finished product into port.